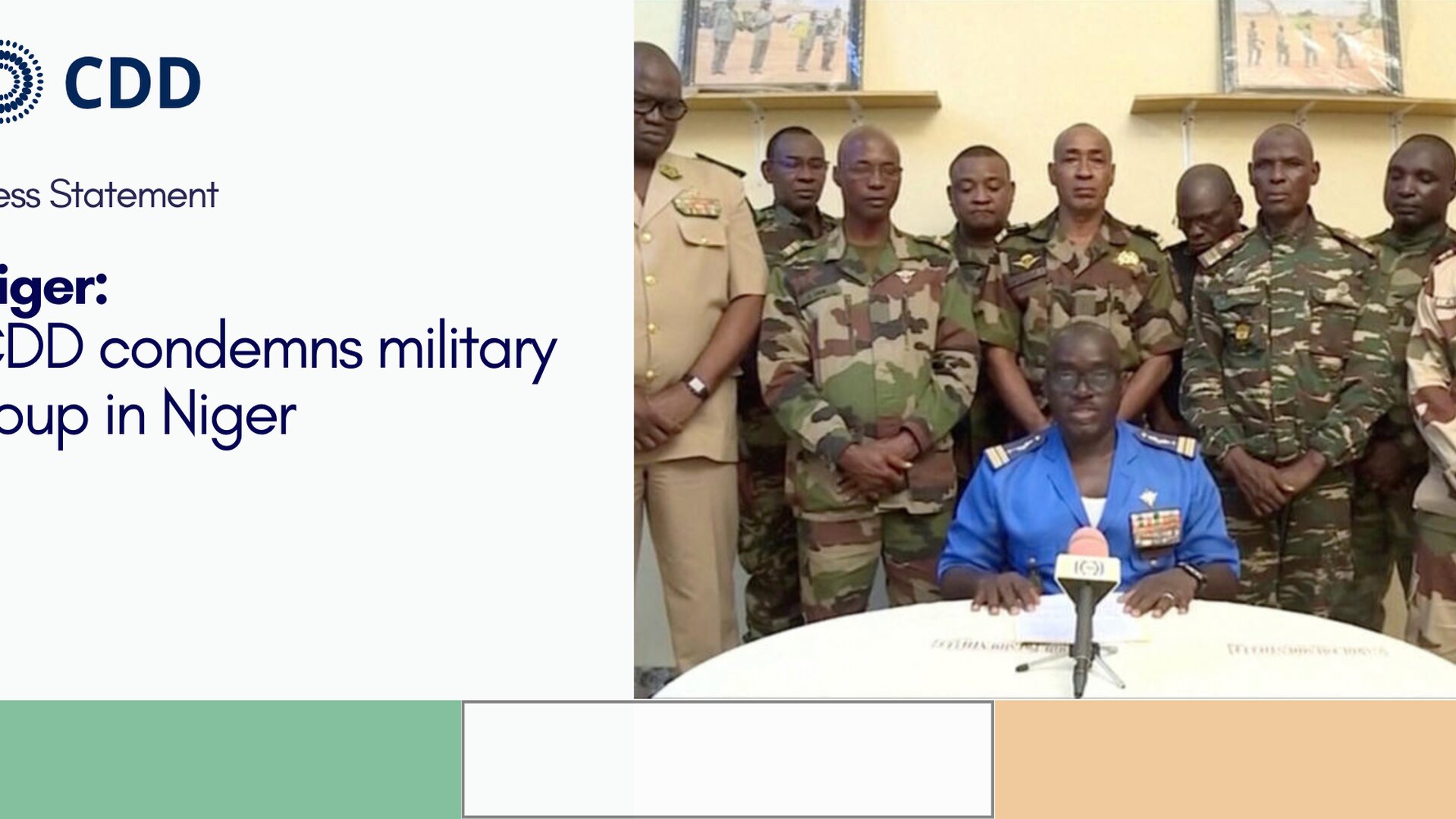 Respect for Democracy and Basic Human Rights: Urgent Call Following the Coup in Niger
27 July, 2023
The Centre for Democracy and Development (CDD) condemns the illegal and opportunistic seize of power by members of the Nigerien armed forces which took place yesterday, 26 July 2023. CDD West Africa expresses deep concerns at the worrisome trend of resorting to coups on the pretext of addressing deteriorating security situation and bad governance in the region.
The ousting of President Mohammed Bazoum follows the third coup attempt in the country since 2010 and represents the fourth active military regime in West Africa following Burkina Faso, Guinea, and Mali.  The recent event in Niger is a setback to the region's progress towards stable and inclusive democracies. 
We call upon all parties involved to prioritize the principles of democratic governance and the protection of human rights. As an organization dedicated to promoting democracy, good governance, and human rights, we emphasize the need for state institutions to respect the will of the people and the importance of allowing civilian-led democratic processes to prevail. Democratic governance remains the cornerstone for sustainable development and the protection of human dignity.
We are heartened that the Economic Community of West African States (ECOWAS), the African Union and the United Nations have condemned the unconstitutional takeover and are not recognising the military regime and call on all relevant stakeholders, including regional bodies, governments, civil society organizations, and the international community, to exert all diplomatic efforts to ensure a swift and peaceful return to civilian rule. 
Moreover, as negotiations on the path forward for Niger take place, we strongly urge military leaders to adhere to their oath to respect human rights and defend the freedoms enshrined in national and international legal frameworks. Any infringement upon the rights of the people, including freedom of expression, assembly, and association, must be unequivocally condemned. 
The stability and progress of the West African sub-region depends on the adherence to democratic values, the rule of law, and the protection of human rights. Only through inclusive and participatory democratic processes can we achieve lasting peace, social cohesion, and sustainable development.
We stand in solidarity with the people of Niger and the entire West African sub-region during this critical moment. Together, we must remain resolute in safeguarding democracy and human rights, ensuring that the aspirations of the people are respected and upheld.
Idayat Hassan
Director, CDD West Africa