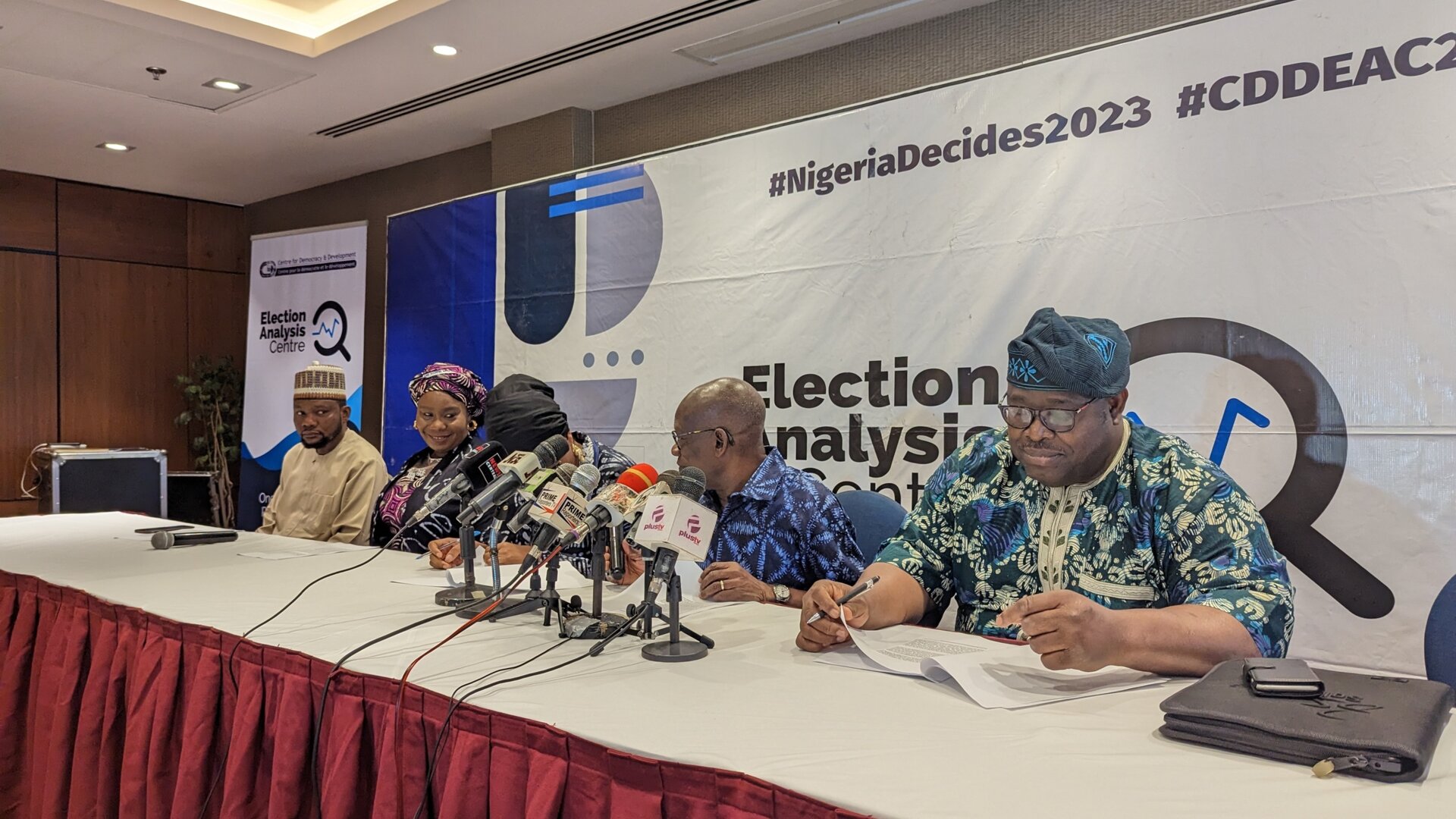 17 March 2023: Press Briefing ahead of the Governorship Election
INEC preparedness, diminished violence critical for credible elections
17 March 2023
On 18 March Nigerians in 28 states will vote in governorship elections with votes in all 36 states taking pace to elect state house of assembly members. Credible polls are vital but will be challenged by the threat of violence, logistical obstacles linked to insecurity and cash and fuel scarcity, and decreased trust in the Independent National Electoral Commission (INEC) following polls on 25 February that were undermined by delays and technical issues.
Political violence
Seventeen states will have new governors regardless of the outcome as term-limited incumbents are ineligible to stand. Highly contested elections in these states such are likely to be sites for election-violence that includes voter intimidation, ballot box snatching and the destruction of election materials. States that will hold gubernatorial polls with the most incidents of political violence since 1 January 2023 according to the Nigeria Election Violence Tracker are Lagos, Rivers, Kano, Delta and Anambra, with Kano the state with the most recorded deaths as a consequence at 20. Osun, Imo and Ebonyi have also seen a number of incidents in the past three months that could disrupt state house of assembly polls taking place in the state. In total 109 deaths linked to political violence have been recorded from the start of the year to 10 March according to the tracker.
This is likely to worsen around elections with groups such as Yan Sakai, the Civilian Joint Task Force, Neighbourhood Watch, Amotekun and Ebubeagu have been, and can be, armed and deployed by state governors and their allies to perpetrate electoral violence or supress voter turnout, particular in areas of strong opposition support. Alongside these are more conventional political thugs, paid to disrupt polls or intimidate political opponents. The insecurity they create itself portends dangers for the ability to conduct credible elections and increases the likelihood of inconclusive results and the need for supplementary elections. Rivers, Bauchi, Sokoto and Kano all faced this scenario in 2019, with the risk of repeat high in 2023.
In Sokoto for example, question marks about the ability of INEC to hold credible polls following the hotly contested race between two political titans, the non-return of federal race results for the 25 February election and the suspension of the Resident Electoral Commissioner for alleged malpractice, have ramped up tensions, increasing the risk of election and post-election violence. There are also concerns about the role of security agencies as violent actors rather than preservers of the peace.
We urge security agencies and their staff to refrain from any engagements in the election process that contribute to an escalation of violence and remind them of their primary loyalty to Nigerians. We also remind political parties of their commitments to peaceful election processes, strongly condemn candidates, parties or actors affiliated to them who violently disrupt polls and urge security agencies to take the necessary action to prosecute those proven to have engaged in election-related violence to disrupt polling.
Rivers, Lagos, Kano, Kaduna, Oyo, Sokoto, Cross River, Delta, Enugu, Gombe and Zamfara are all hotspots for violence during the election.
INEC preparedness
INEC must quickly learn lessons from the 25 February elections if it is to emerge from these elections with its credibility intact. Given that the polls have been delayed a week to give INEC time to reconfigure the Bimodal Voter Accreditation System (BVAS) devices, the Commission has had additional time to prepare for these elections. We hope to see this translate into a prompter opening of polling units across the country, with those polling units fully equipped with the necessary voting materials to avoid scenarios observed in the presidential polls where voting continued well beyond the scheduled closing time, and even until the next day in a few instances, or where insufficient ballot papers were found, a reality experienced in parts of Sokoto state. Such an elongated voting process can reduce popular participation in the polls.
The continued functionality of the BVAS machines and improved use of the INEC results viewing platform (IReV) will also be critical as the failure of it to deliver as promised during the presidential elections has been a major source of consternation among voters. Improved functionality will contribute to greater election results transparency, but this can still be undermined by compromised INEC officials and ad-hoc staff. The suspension of the RECs for Abia and Sokoto states for "endangering the electoral process"[1] is welcome but points to the prevailing challenge that INEC officials and ad-hoc staff can be subject to the whims and caprices of state governments in ways that negatively impact voter confidence and the election's credibility. In Rivers and Anambra there are documented concerns about the impartiality of key election officials in the state.
We encourage INEC to work assiduously to reprimand and suspend those found to be colluding with political actors in their state, and support polling unit cancellations in such instances. We also encourage all ad-hoc INEC staff to abide by the Commission's code of conduct when carrying out their duties on election day and when announcing results. The prompt submission of polling unit results to IReV is critical and will support an improved perception of INECs performance. To support this the Commission must be both pro-active and responsive in its communication with voters. Elongated periods of silence when the election process encounters issues provides fuel for misinformation and disinformation to emerge; narratives can be hard to subsequently dislodge.
Identity
Misinformation and disinformation that amplifies divisive identity rhetoric at the state level will continue to be a feature of the electoral environment. Whilst identity politics is sometimes more visible at the national level, state politics is its main domain with candidate selection shaped by of one, or a combination of, ethnicity, religion, gender, generation and senatorial district zone depending on the state. Beyond competency and capacity considerations, identity has dominated the internal party and public discourse around the suitability of candidates for governorship roles in states like Rivers (ethnicity and zoning), Kaduna (religion) and Cross River (zoning). These identity markers were a major driver of intra-party disputes during contested primary processes, many of which were only resolved through the courts. During these elections political parties must continue to be reminded that if elected they should govern in the interest of all residents of their states, not specific identity groups.
In Zamfara, ethnicity and zoning arrangements are set to be important factors in how ballots are cast. The two main candidates are Fulani (Matawalle) and Hausa (Lawal) with votes set to be divided, particularly in rural areas most affected by violence such as Anka, Bakuri, Bunkkuyum, Gummi and Maradun LGAs, along these lines. In Zamfara, there has never previously been an elected governor from Gusau, the state capital, and Lawal, who is from the city, may benefit from the strong Hausa vote base in the city. 
In Lagos where, driven by identity politics couched in indigene versus settler narratives, politics in the run-up to the state polls has become increasingly divided along ethnic lines. Problematic narratives and counter-narratives have emerged about who 'owns' the city-state. This has led to questions how authentically Yoruba the Labour Party's gubernatorial candidate is or whether the incumbent APC governor is a true indigene of the state. Different identity groups have adopted different candidates with religion also a part of the discussion. The Muslim community of Lagos have adopted Jide Sanwo-Olu (APC) as 'their' candidate, despite the APC candidate taking his campaign to churches in the run-up to the election. Whilst Lagos elders, such as Bode George, have mobilised as 'Lagos indigenes' in support of Rhodes-Vivour (LP). Religious, traditional and community leaders are free to express their opinions on elections but must remain cognisant of the power and authority with which their statements are received by prospective voters and their important role in maintaining social harmony in their respective states.
Gender and generational identities are also important. Adamawa is a state to watch for the possibility that Nigerian could have its first elected female governor but that should not disguise the fact that female representation in Nigeria's democratic structures continues to decline across the country with just three senators-elect and 14 house of representative female victors emerging so far. The idea of youth as a monolithic group of voters has largely been dispelled by the presidential election, as some campaign could not permeate into other parts of the country. When talking about generational identity these important nuances should be captured.
Identities are undoubtedly fluid in Nigeria and Nigerians holding multiple identities. Therefore it remains critical that when it comes to how these identities are presented, the media should be aware of the critical role they play in ensuring that discussions of identity do not promote rhetoric that can further entrench divisions along narrow identity lines in Nigeria.
All politics is local
Most political parties and online commentaries have made the mistake of expecting similar results to the presidential results of 25 February in the distribution of governorship seats. But these projections fail to adequately consider the senate and house of representatives' results, which did not always follow the pattern set by the presidential election. Incumbency is also a factor to consider and with the APC or PDP controlling all of the states with governorship elections in 2023, these two political heavyweights may prove difficult to dislodge.
The results from the just concluded elections have also thrown up new but important dynamics. For instance, in the declared national assembly seats so far there have been many instances where parties won the presidential elections in the state, but only won a few, if any, National Assembly seats. In other states parties failed to win the presidential vote in the state but dominated the legislative elections. The 25 February polls highlighted the growing phenomenon of split voting an important reminder of the role personalities play in voters decision and an illustration that the party's efforts to get its supporters to vote 'top to bottom' was not realised in practice. In 11 states the party which won the presidential election did not secure the largest number of National Assembly seats in that state.
The data highlights the importance of personalities in political choice both at national and sub-national levels. This, more so than loyalty to a particular party – Nigerian political parties do not have distinct ideologies in the main – will be key to understanding how the gubernatorial races will play out across the country. This is important as inflated expectation based on the presidential outcome might be used by political actors to call for the delegitimisation of the process, policies and eventual winners – with the uncertainty of what this might represent for the democratic process. Political parties and candidates with genuine grievances about the process should challenge these, but we encourage supporters to refrain from using the presidential outcomes as an indicator of likely support in the state level elections. The results from National Assembly votes held the same day suggest that the presidential pattern is less relevant to more localised political races.
Voter turnout
Citizen participation, like for the presidential election, will be an important shaper of the outcome with fears of violence and question marks about the ability of INEC to conduct credible polls likely to impact on turnout figures in some states. However based on the most recent off-cycle governorship elections in Ekiti and Osun, overall turnout could be higher than in the general election even if there will be significant variation between states and geopolitical zones with the competitiveness of the race and potential violence risks being defining factors. Kano, Jigawa and Adamawa are likely to see higher than average turnout whilst Lagos, Rivers and states across the southeast will likely see turnout on a par with voter participation during the 25 February polls, if not less. A combination of the increased risk of violence and voter apathy.
For those who do choose to cast a ballot the continued scarcity of fuel and naira increases the risk that they will be incentivised to do so.
Vote trading
Vote trading was less prominent during the presidential election but more creative. Food and material goods replaced cash in many instances, a practice that will be a feature of closely contested polls in Sokoto, Delta, Rivers and Zamfara states.  However, this is in tandem with presidential races where vote trading is often limited when compared to governorship races which has seen vote trading feature prominently in successive elections.  We encourage citizens to make their decision based on choice and not in exchange for goods or cash and implore investigating authorities to act against those engaged in the process of buying votes in order to erode the practice in this and subsequent Nigerian elections.     
Our recommendations
For INEC
We urge the Commission to be both pro-active and responsive in its communication with voters. Elongated periods of silence when the election process encounters issues provides fuel for misinformation and disinformation to emerge.
We encourage INEC to work assiduously to ensure that polls are open on time, that the necessary equipment and trained staff are present, and that the transmission of results to IReV is completed as set out in the regulations.
All INEC officials and ad-hoc staff should abide by their code of conduct with those caught engaging in serious election malpractice removed and supplementary elections held if needed.
For political parties
Political parties, their candidates and supporters should refrain from engaging in divisive rhetoric around the identity of candidates or the outcome of the election before a declaration from INEC.
Political parties, their candidates and supporters should not engage thugs to disrupt polling, particularly in areas of opposition stronghold.
For security agencies
We urge security agencies and their staff to refrain from any engagements in the election process that contribute to an escalation of violence during voting and in the immediate aftermath.
We encourage security agencies to take the necessary action to prosecute those proven to have engaged in election-related violence to disrupt polling or the annocement of results.
For media
Traditional media houses should deliver responsible and balanced media reporting to avoid accentuating pre-existing divisions among groups in Nigeria.
Exercise caution in using trending social media issues to shape articles and narratives about the election as it is unfolding.
Citizens
We encourage citizens to continue to engage in the democratic process in Nigeria by casting a ballot for governors and/or state house of assembly representatives.
Despite the prevailing fuel and naira scarcity, and wider economic hardships, we urge Nigerians to base their decision on who to vote for on the merits of candidates, not a financial inducement offered by a political party representative.
[1] Are, J. 2023. 'INEC withdraws Abia and Sokoto RECs for 'endangering electoral process'. The Cable. 8 March. Available at https://www.thecable.ng/inec-withdraws-abia-sokoto-recs-for-endangering-electoral-process