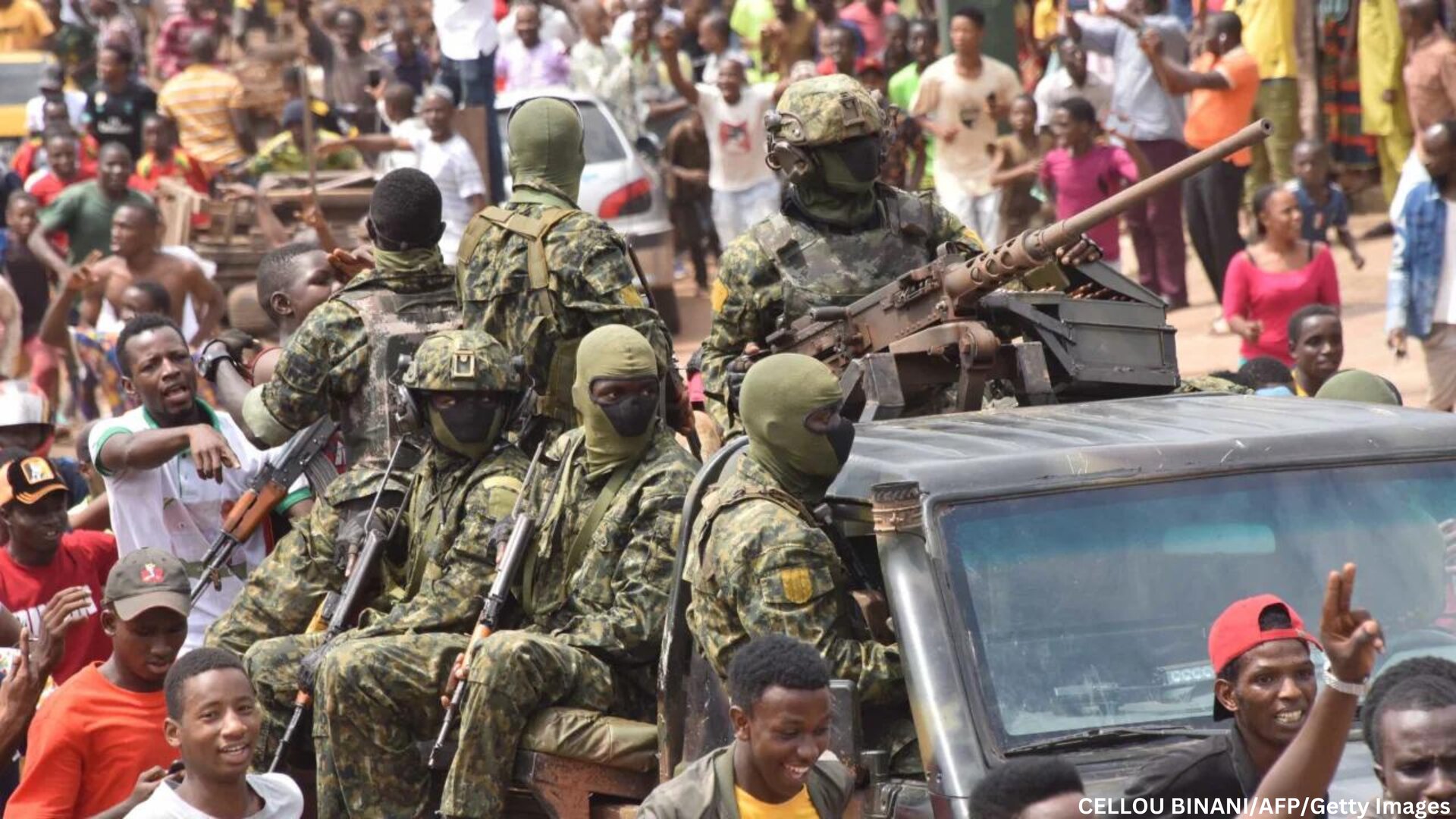 Surge of Military Coups in Africa: A Threat to Human Rights and the Rule of Law
A surge of military coups is sweeping across Africa. On 30 August 2023, the central African nation of Gabon became the sixth African country to experience a military coup in the past three years following coups in Niger (July 2023), Burkina Faso (January and September 2022), Sudan (October 2021), Chad (April 2021), Guinea (September 2021) and Mali (August 2020 and May 2021). 
While military takeovers in Africa are nothing new, the coups of the past three years have taken on a new dynamic. Most of them have received the backing and de facto legitimacy from citizens. While each coups is unique, their causes can broadly be linked to democratic deficits and the inability of elected governments to deliver freedom, security and development. Most of these coups have taken place in the context of failed military strategies to address insurgencies, and anti-French sentiment in former colonies like Mali, Burkina Faso, Niger and Gabon — the result of decades of unpopular French foreign policy including support for dictatorships and economic interventions perceived as protecting French interests at the expense of local populations. More recently, the backlash has stemmed from France's failed military interventions in the Sahel. Coup leaders have justified their actions citing other failings of democratic leaders. In Sudan, coup leaders claimed that infighting among the civilians in the transition government imperiled the stability of the country. In Gabon, military leaders cited a lack of credibility concerning the August 2023 elections as the reason for the coup. In Niger, the coup plotters blamed rising insecurity and a stagnant economy, despite pre-coup analysis suggesting that the counter-insurgency strategy was the most efficient in the region.
The juntas in Mali, Burkina Faso and Chad —ranked among the countries most affected by terrorism in the Institute for Economics & Peace's Global Terrorism Index— claim that restoring security or maintaining stability is the main motivation behind the takeovers. They each argue that the deterioration of security in their countries warrants exceptional measures many of which conflict with their human rights obligations. In Burkina Faso, the junta issued a decree on 13 April, 2023 that provided them with the right to curtail selected civil liberties. Such restrictions are subject to strict conditions including the clear identification of the specific human rights obligations concerned and the safeguards associated with the curtailment of rights. These include and are not limited to the lawfulness under national law; that such measures must be exceptional, temporary, non-discriminatory, and proportional. 
In Gabon, where former president Ali Bongo won a third seven-year term in disputed elections, military leaders cited a lack of credibility in the recent elections as the reason for the coup. In Niger, coup plotters blamed rising insecurity and a stagnant economy. Nonetheless, in spite of their popularity and stated justifications, the coups have failed to bring about stability and have exacerbated human rights and economic conditions.
Arbitrary arrests and detentions
In Mali, Burkina Faso, Guinea, Niger and Gabon, top civilian officials have been placed under house arrest or detained for indeterminate periods, in many cases indefinitely and without being charged. Former president Roch Kaboré of Burkina Faso was released from detention on 6 April, 2022 after being under house arrest for more than two months following the coup against him. Niger's deposed president was placed under house arrest  on 26 July, and former members of his cabinet were also arrested. International legal standards call for detentions to comply with legal procedures that are overseen by a judge to ensure fairness, appropriateness, and predictability. International standards also urge that those detained should have access to counsel and family members, and that they should be brought before a judge as soon as possible.
Excessive use of force and restrictions on peaceful demonstrations
With the exception of pro-junta rallies in Bamako, Niamey, and Ouagadougou, coup leaders have banned demonstrations by civil society organizations and political parties, such as in Chad, where they violently dispersed peaceful protesters violating the rights of citizens to peacefully assemble. In Sudan, on several occasions in 2022 and 2023, the military used excessive force on demonstrators leading to dozens of deaths. In Guinea, security forces have prevented demonstrations and attacked people protesting the coup on several occasions. Under regional and international law, limitations  on the right to freedom of assembly are only allowed if there is a genuine threat that should be clearly explained by authorities.
Attacks on press freedom 
There are growing concerns over military harassment, intimidation and attacks against journalists perceived to be critical of junta leaders. On August 3, Nigerien coup leaders suspended the operations of France 24 and Radio France Internationale (RFI) in the country.  On multiple occasions, local and international media outlets have been suspended accused by the junta of spreading misleading and untrue information about human rights violations by security forces. In Burkina Faso, two French reporters were expelled soon after the country's coup. In neighboring Mali, since the 2021 coup, authorities have accused human rights actors of instrumentalization and politicization following repeated reports that attributed the killings of civilians to Mali armed forces. 
Impunity and rising human rights violations
Coup leaders have also failed to address allegations of serious human rights violations. In Chad, following the crackdown on protests on 20 October 2022, authorities did not conduct credible investigations of reports of killings, deaths in detention, and torture. In Mali, armed forces and the Russian Wagner Group have been accused of killing civilians in Moura. Despite the deteriorating security situation supposedly motivating the coups, allegations of civilian casualties during counterterrorism operations have been mounting in Burkina Faso. In Sudan, the coup leaders have made every effort to protect themselves and avoid accountability for crimes committed during the 2021 coup including killings, arbitrary arrests ad detentions of peaceful protestors by the Sudan Armed Forces.
Growing insecurity.
All-out military strategies have failed to curb insurgencies and end insecurity. According to United Nations experts, In early September 2023, suspected jihadists killed scores of people. In Sudan, violence involving security forces, other armed groups and rival ethnic communities persisted in many parts of the country throughout 2022. Thisculminated in a widespread conflict between the Sudan Armed Forces and the Rapid Support Forces in April 2023. The conflict has led to thousands of civilian deaths, the displacement of millions and a humanitarian crisis. In Burkina Faso, despite a robust military air campaign, mass  recruitment for the civilian defence forces, dozens of soldiers and civilians have been killed by unknown violent armed groups in Burkina Faso, which also faces the worst humanitarian crisis in its history.
Lack of return to civilian rule
Despite pledges to hold elections coup leaders have prevented transitions to civilian rule. In Mali, coup leaders recently postponed presidential elections scheduled for February 2024. In  Burkina Faso, the leaders appear to be reneging on a commitment to hold elections in July 2024 citing security. In 2022, coup leaders in Chad extended the transition period while Gabon's military have yet to set a date for elections. 
Moving Beyond Coups
Coups can never solve Africa's many challenges. However, ending them will require a concerted international effort that goes beyond condemnation and expansion of military support for those countries fighting insurgencies. The root causes of instability and disaffection must be addressed. These include issues of misgovernance, corruption and the broader failures of elected governments on the continent to deliver the dividends of democracy. The African Union, regional blocs and the wider international community should end their silence over flawed elections, extensions of term limits and changes to constitutions that further entrench leaders in power and disenchant the population. Partners should go beyond security in their counter-terrorism efforts and focus on longer human rights strategies. In the absence of such efforts, despite the highlighted rights concerns, coups will remain a viable and popular alternative for citizens, to their detriment.
Ms. Tiseke Kasambala is Director of Africa Programs at Freedom House overseeing the program's various rights and democracy projects across the continent. Tiseke Kasambala has over 20 years of experience working in East and Southern Africa on human rights, democracy, and governance. Before joining Freedom House, Tiseke was the Deputy Executive Director and Head of Programs at the Open Society Initiative for Southern Africa (OSISA) where she provided strategic leadership and oversaw the implementation of a multimillion-dollar grants program. Prior to that she worked at Human Rights Watch in various leadership positions including as Southern Africa Director and Africa Advocacy Director. Tiseke is a published author, and her opinion pieces have appeared in numerous local, regional, and international news outlets. She holds a master's degree in social science from the University of Amsterdam, the Netherlands.
Mr. Igor NGIMA is the Freedom House project director in Burkina Faso since December 2020. Prior to joining Freedom House, he was a protection team leader at the Malian delegation at the International Committee of the Red Cross. He has worked in several French-speaking African countries in crisis or post-crisis (Burkina Faso, Mali, Côte d'Ivoire, Togo, DRC, Cameroon) over the past ten (10) years.