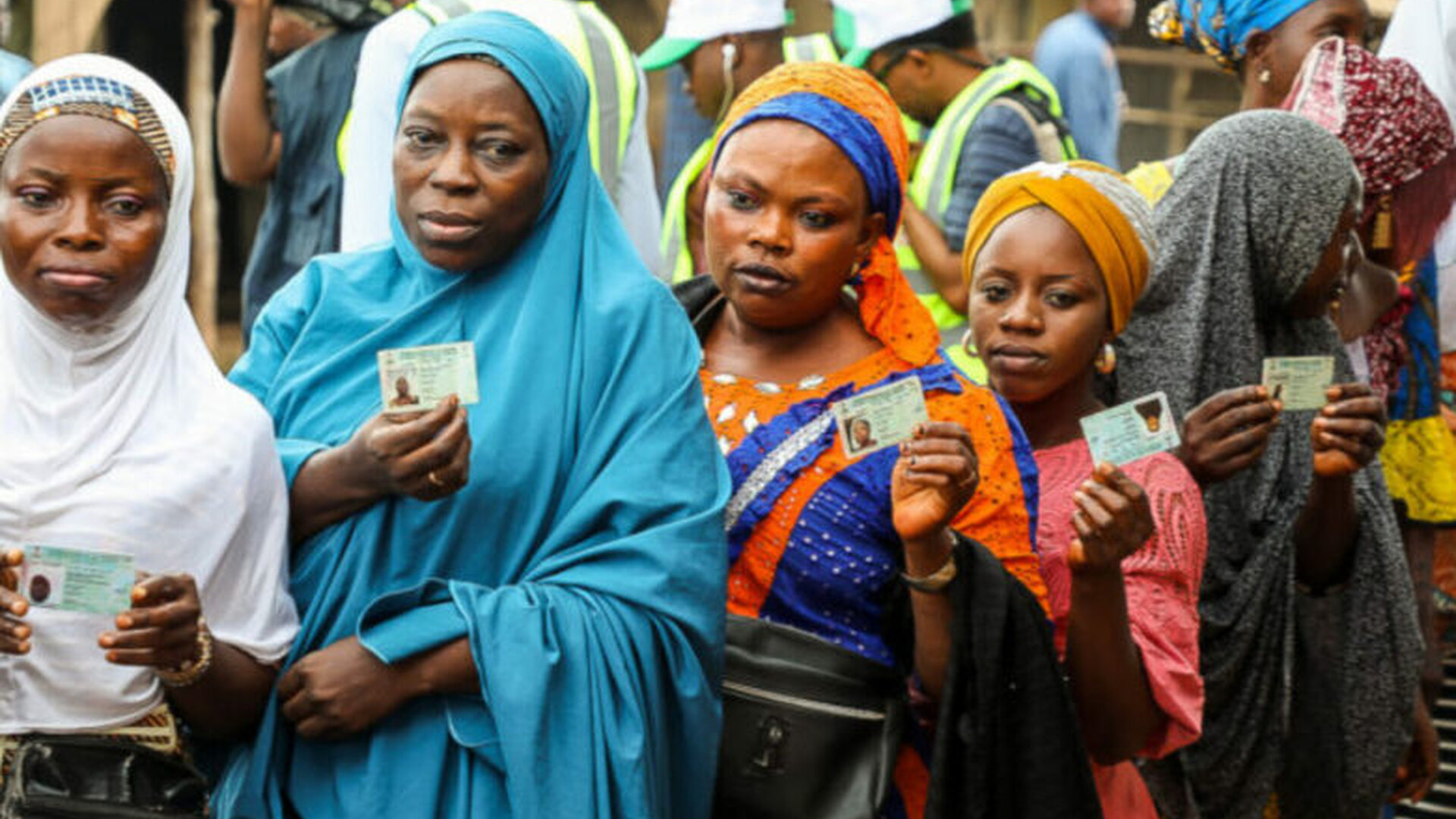 Studying the Ceiling for Northern Nigerian Women in Politics
 Despite the narrative that women in the north are not as 'active' in frontline politics as women from other regions of the country, there are many examples that dispel that notion. In three of the last four general elections, there has been at least a prominent gubernatorial bid by a woman in a northern state. In 2011, after serving as the first northern female deputy governor, Pauline Tallen contested the Plateau state governorship election as a member of the Labour Party and finished second behind her boss, Jonah Jang. In 2015, Aisha Alhassan, popularly known as Mama Taraba, sought to get elected in Taraba and similarly finished second. However, her bid was closely followed because she was a candidate of the eventual ruling All Progressives Congress and had been declared winner by a court injunction – the first such announcement. And, recently, Aisha Ahmed Binani also forced the incumbent governor of Adamawa to a supplementary election before also finishing second, albeit after some controversial activity on her part.
These close encounters would point to a growing momentum and increases the imminent prospect of a female governor in the north, whereas such an eventuality in the south may be several election cycles away. However, there are more factors in play that need to be addressed before that optimism turns into reality.
The Role of Islam in Politics
The issue of religion and culture always comes to play , whenever a woman seeks an elective leadership position, — especially in northern Nigeria. So, it was no surprise when it was raised against Jummai Al-Hassan in 2015 and against Aisha Binani in 2023.
Islam, the predominant religion in northern Nigeria, has no direct jurisprudence against women leadership. There are, however, dissenting scholarly opinions in this regard. Scholars who believe a woman should not lead a group, society, state or nation largely rely on a few Quranic verses and Hadith (teachings of Prophet Muhammad). For instance, Quran 2:228 says "Though the women have similar rights as men, yet men have a degree above them." For these scholars, this verse translates to men being superior to women. Another instance is in Quran 2:282 which says, "The evidence of two women is equal to that of one man." Finally, a reported hadith says,
"When Prophet Muhammad (Peace be upon him) heard that Persians had made the daughter of Kisra ruler over them, he said: Never shall a people prosper who makes a woman their ruler."
Based on these verses, some Muslims still hold the opinion that women cannot lead, or be elected as governors.
To counter this belief, scholars who support women's leadership, draw their evidence from chapter 27 of the Quran. The latter details the story of a woman ruler, Queen Bilqis of Sheba (her name was not directly mentioned but all transliterations say the pronoun "she" refers to her). The Quran described her as a fair and just leader whose wisdom, sound judgment and readiness to accept Islam stands out in the chapter. As conspicuous as this chapter is in the Quran, those who argue that women cannot lead are more vocal than those in support of women's leadership.
It is also noteworthy that these views do not extend to the judiciary, where there are women sitting on the bench of the country's apex court with Mariam Aloma Mukhtar becoming the first female Chief Justice of the Supreme Court in Nigeria in July 2012. Similarly, despite cultural norms being cited as challenges for governorship candidates, there does not appear to be a similar issue to deputy governors being elected. Hadiza Balarabe (Kaduna) and Noimot Salako (Ogun), women Muslim deputy governors in different parts of the country, were re-elected to their positions in the 2023 election cycle, while Kaletapwa Farauta (Adamawa) was elected as deputy governor – a milestone that was largely ignored in the wake of Binani's loss in the governorship race. This rise in the number of experienced women Muslim politicians, alongside those with legislative and cabinet experience, will lead to stronger candidacies in the future.
The Cultural Dynamic
Like the religious standpoint, there are no documented cultural practices or traditions that are against women's leadership. Instead, cultural practice and tradition seemingly affirm women's leadership. A famed example is Kumbwada, an ancient kingdom in Niger state that is solely ruled by women. Another well-known example is Queen Amina of Zazzau whose legacy has transcended cultural borders, with female halls of residence in different parts of the country named after her including in the south western University of Lagos. However, some traditional practices still seek to uphold patriarchal arrangements. Succession and inheritance, for instance, remain predominantly patrilineal lending credence to the stereotype of women's absence from public spaces and politics. However, this is not restricted to the north as similar trends obtain in the south.
Way Forward
The gender bias and stereotype are anchored in age-long practices and perceptions that need to be questioned. Over time, government agencies, civil society organizations, corporate bodies, international organizations, gender activists and individuals continue to champion the cause for equal opportunity for women. There have been numerous seminars and symposiums with the ambition of changing views hostile to women's leadership by exposing them to the giant strides of women in leadership positions across the world. It is however important to increase and maintain the occurrence of such interventions.
There is already proof of progress. The rise in the number of female deputy governors in the north is reflective of what obtains in the country's south. Since the transition to democracy in 1999, women in the South have repeatedly been deputy governors. As a result, with more experienced women politicians, and others joining with each cycle, there are more advocates for increased women's participation in the political process. Some will also point to Patricia Etteh's brief term as Speaker of the House of Representatives in 2007 and Muhktar's later emergence as Chief Justice in 2012, as milestones worth emulating and achievements to inspire other women to aspire to such roles. Furthermore, away from politics, women continue to assume more prominent positions in other industries. Some of Nigeria's prominent banks are led by women CEOs, while many prominent cabinet members have assumed senior positions in international organisations such as Director-General of the World Trade Organisation and Deputy Secretary-General of the United Nations.
Ultimately, male allyship remains a major area that demands attention. Without a concerted effort to correct these cultural 'norms' of women being relegated to a backup space, there will be no recorded progress. Many will point to the way women have been treated during appointment confirmation hearings, especially with regard to federal character discussions around state of origin, and wonder why legislation to address this hasn't been put forward. Another example was the decision by Aminu Tambuwal to defy the PDP and win the House Speakership over Mulikat Akande-Adeola, who had been selected by the party's leadership. Others have proffered suggestions such as quota systems and designated positions but, at the heart of this challenge, is the need for proper allyship and support by male politicians.  
Some of the issues identified are not limited to the north. Cultural issues abound on both sides of the Niger, while religious biases are also present in how some major denominations – such as the Catholic Church – does not have women priests or bishops. Yet there is a lot to reflect on through recent election results. Considering practical solutions, and incorporating the support of necessary allies, can help in ensuring that a review of the state of women in Nigerian politics is different after the next cycle.
Aluko Ahmad is the acting Team Lead of fact-checkers at the Centre for Democracy and Developement