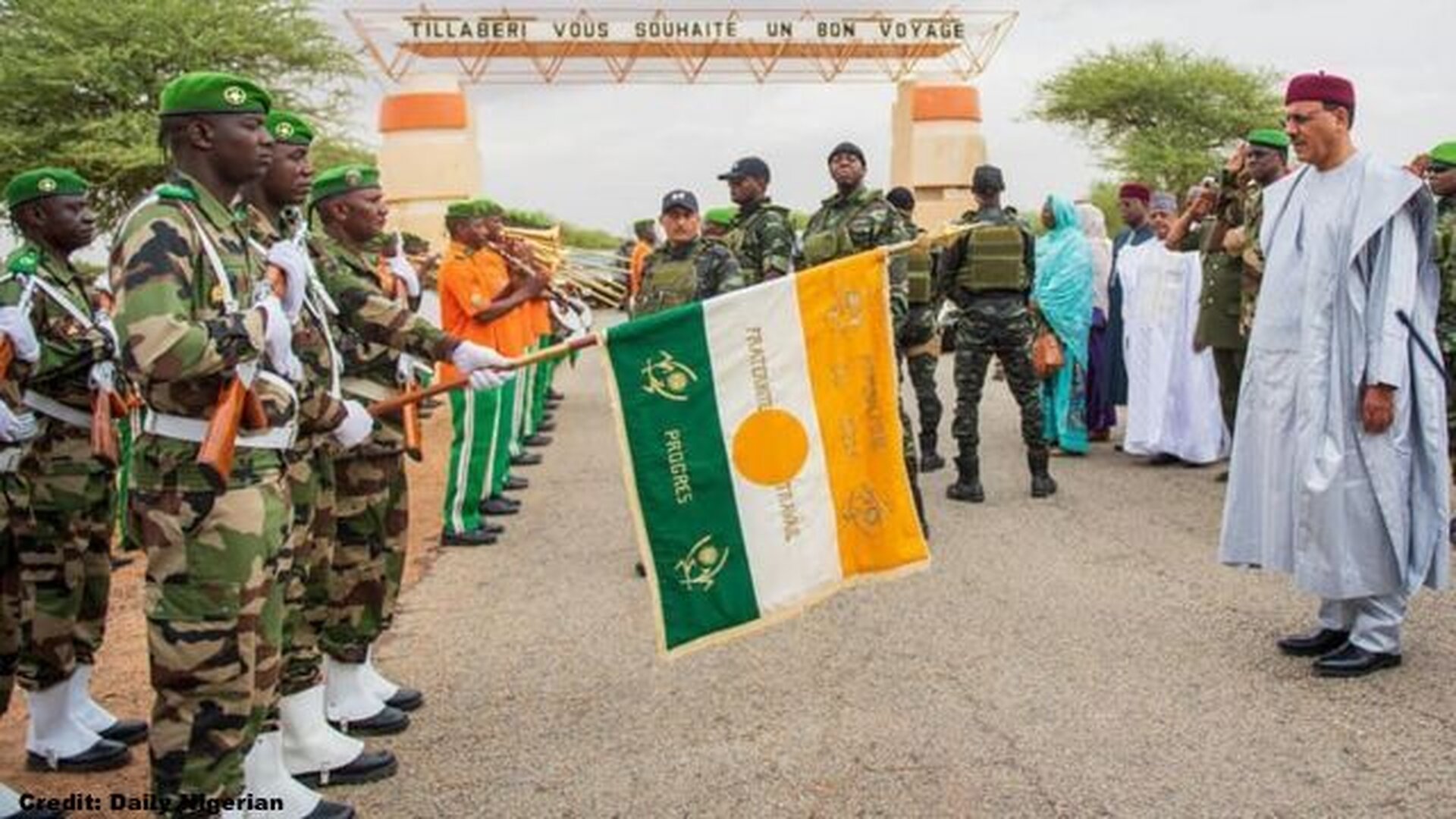 Niger Coup d'état - A Test for West African Democracy
The July 27 coup d'état in Niger ticked the seventh in West and Central Africa since 2020 and the first in the country since the Salou Djibo led military junta ruled between February 2010 and April 2011. The implications of the coup are wide-reaching and will affect many foreign considerations – as well as the domestic concerns of Niger's neighbours, including a new Nigerian government that recently assumed the chair of the regional bloc. 
The Republic of the Niger is a landlocked country in West Africa. It is strategically located at the edge of the region and has neighbours in North Africa (Algeria, Libya), Central Africa (Chad) and West Africa (Benin, Burkina Faso, Mali and Nigeria). It has been dependent on revenue exports and extensive foreign aid. It is home to significant amounts of uranium, representing 5% of the world's mining output, with the expected external interest in its mines. 
Yet, the country is one of the poorest in the world, ranking 184th out of 193 in GDP per capita in 2019 and last (189th) in the Human Development Index in 2019. Alongside reporting the world's highest fertility rate, the challenges for governments have been clear in a region that is buffeted by crises. Its strategic location has meant that Niger cannot be ignored by regional or world powers, and this helped in raising some funding and elevating the support it has received. Niamey was often used by the UN Multidimensional Integrated Stabilization Mission in Mali (MINUSMA) and has increasingly been a gateway between the different regions on the continent. This has also meant that with rising jihadist movements and increasing political instability in neighbouring Burkina Faso, Chad and Mali, it has also been susceptible to a potential crisis of its own. 
Background Politics
As stated earlier, Niger's last military regime ended in 2011. The crisis started because then President Mamadou Tandja had sought to extend his term beyond December 2009 and tried to push through a referendum that would give him a further three years in power. The response of the opposition and protests from citizens gave cover for the military to take over. After negotiations failed, the military moved in and organised a fairly quick transition plan to ensure a restoration to democracy quickly. This led to the March 2011 elections that saw Mahamadou Issoufou, a prominent opposition leader, elected as president in a second-round election. 
Issoufou was a central figure at the heart of increasing migration flows from the region to Europe and insecurity in the Sahel. Agadez, in northern Niger, has been a major hub for migrants seeking to move towards Europe and, in most cases, a major site for trafficking of drugs and weapons. His term was instrumental in developing a partnership in order to curb the flow of migrants and work on building internal security. This would help with an increased focus on managing the different conflicts that Niger is surrounded by. The Diffa region is home to an influx of refugees from Chad and Nigeria, escaping the Boko Haram insurgency. In appealing to donors, and providing access to powers seeking to develop their capacity to respond to insurgency and jihadism in the region, Issoufou was able to increase aid packages from the West, largely the European Union and the United States. Furthermore, unlike budding issues in Burkina Faso and Mali, Niger remained relatively safe and was perceived as a bulwark against increasing mercenary use across the Sahel. This meant that he was able to carry out infrastructural investment in social amenities such as schools and hospitals. Under his term in office, the number of Nigeriens under the poverty line fell from 48% to 40%, while the GDP grew from 8.7 billion to 12.9 billion dollars. 
Issoufou did not seek a third term and stepped down at the end of his second term in 2021, earning plaudits including the 2021 Ibrahim Prize for African Leadership. His goodwill and leverage meant he was always going to be in a good position to determine his successor and Interior Minister Mohamed Bazoum was elected in a second-round election, promising to ensure stability in the country. 
Despite the initial promise, Bazoum has struggled with managing increasing security challenges. The loss of Chad president and regional strongman Idris Deby weeks after taking office in April 2021 did not help manage matters to the East, while a coup took place in Burkina Faso in January 2022. His ethnicity, part of the ethnic Arab minority, will also have led to some suspicion of his ancestry, with several opposition candidates accusing him of being a foreigner during the presidential campaign. Furthermore, rumours of clashes with General Omar Tchiani, the influential head of the presidential guards since 2015, might have led to a decision to move against the president. Tchiani was appointed by Issoufou and has been able to accumulate influence and wield influence behind the scenes, so much so that he led the unit that blocked an attempted coup in March 2021 before Bazoum's inauguration. The military coup plotters cited the 'continued deterioration of the security situation, poor economic and social governance' as reasons for their move. 
Considerations and Next Steps
Bazoum's removal from office will no doubt lead to increased communication in Western capitals seeking to preserve one of their staunchest allies in the region. Coups in Mali and Burkina Faso have removed other strong partners and the growing influence of the Russian mercenary Wagner Group will play a role in how countries respond to the news. For France in particular, this follows the recent referendum result in Mali that removed French as the official language and reported scenes of Nigeriens celebrating the coup with Russian flags and removing French ones – scenes similar to Burkina Faso during its recent coup in October 2022. While it is not though that Russia was actively behind the move, there is no doubt that there will be some effort to gain more of a foothold in the region and establish a belt of influence on the continent. The fact that Burkina Faso, Chad and Mali border Niger will no doubt afford the Wagner Group some confidence when lobbying and intensify American and Western efforts to avoid this. 
But these concerns are not limited to external powers, but also regional ones. The Economic Community of West African States (ECOWAS) recently named newly minted Nigerian President Bola Tinubu as its chair and, in his acceptance speech, he defiantly issued the riot order against coups in West Africa. Despite this initial foreign policy challenge, Tinubu will no doubt consider the impact that a coup will have in the northern region, considering that Niger shares Nigeria's largest border. A new administration, that is yet to confirm a cabinet, will no doubt see the potential disruption to humanitarian plans as well as a sudden influx of refugee to the country. Comoros currently holds the chair of the African Union but might rely more on the commission's leaders, Chad's Moussa Faki who is commission president and Nigeria's Bankole Adeoye, who leads on peacebuilding, to drive these efforts. 
On 28 July 2023, the armed forces named Tchiani as the new head of state. He will largely be able to count on support among kinsmen in the Tillabéri Region, where a lot of army recruits are from. This should support any call for legitimacy for his contested leadership. And while it is not entirely implausible that Bazoum returns to power, the fissure of such an action being allowed to continue and receiving the level of support within the army and citizenry will leave doubt in his administration finishing his term. It might also influence the approach that Nigeria and ECOWAS take in seeking to curb other possible coups in the region – perhaps balancing more stringent sanctions with potentially engaging mercenary groups increasingly establishing a presence in the region. Regardless of the outcome, Niger might be one of the poorest countries in the world, but it remains a necessary partner in resolving many of the crises in the region. That alone must warrant sufficient engagement in helping Nigeriens navigate this situation. 
Afolabi Adekaiyaoja is a Research Analyst at the Centre for Democracy and Development.