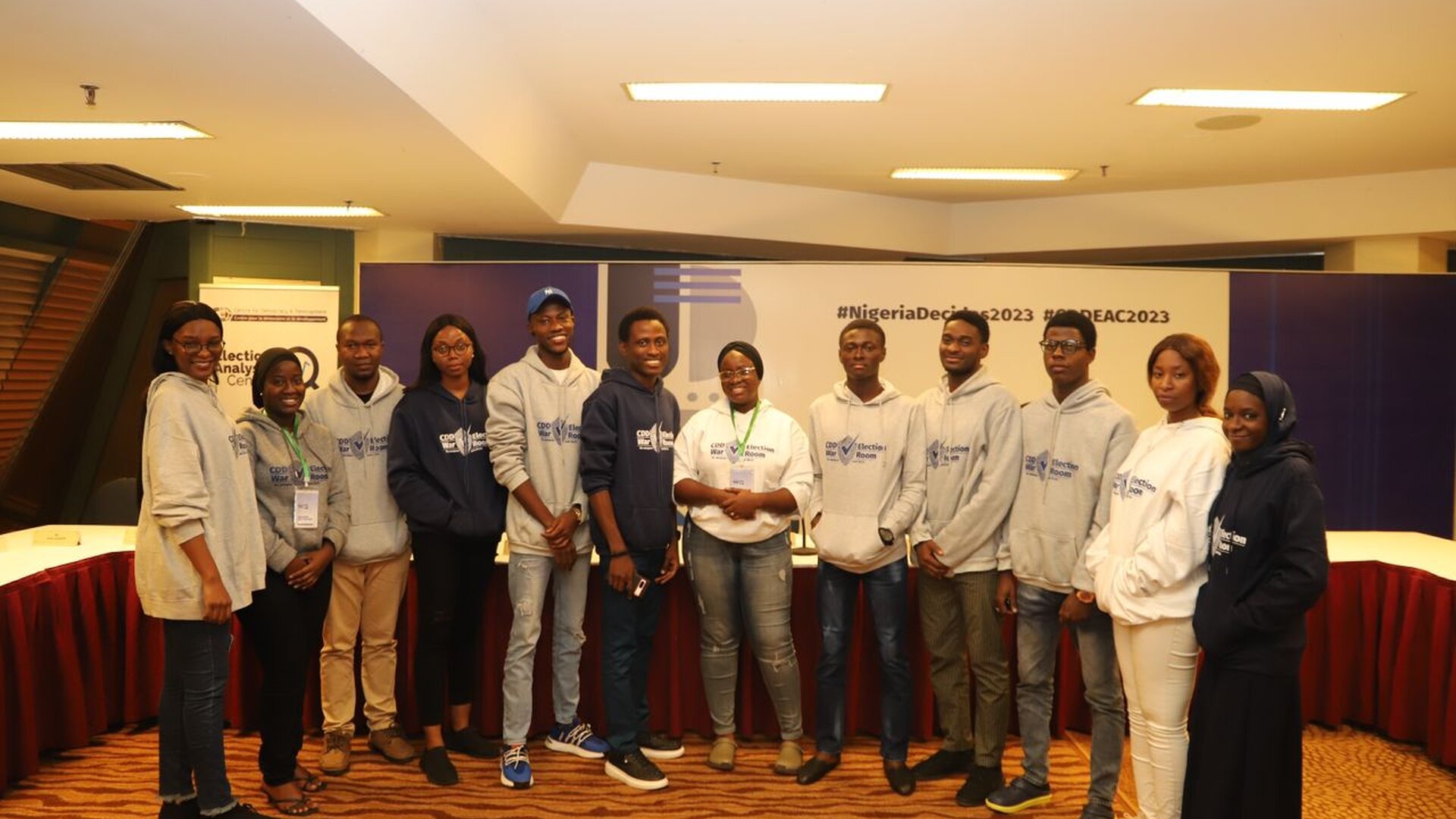 Information Wins Elections: Lessons from the Centre's 2023 Election War Room
Information wins elections. People across the world make their print on a ballot paper based on conscious and unconscious information consumed in the period preceding the election—or in their lifetime as a whole. In Nigeria, a northern Muslim is more likely to vote for another northern Muslim in a presidential election because of the information (s)he has about faith, culture, religion and proximity of bloodlines. A southern Christian will thumb the ballot for another southern Christian for almost the same reasons—information or the lack of it. It is why religious balancing is needed in political tickets, it is ironically also the same reason a political party believed in 2022/2023 that it stood a better chance fielding candidates from the same faith on a ticket. Politicians and other political actors are well aware of this, hence, the need to be in the active business of sharing information to shape hearts and minds before an election. This reality breeds and sustains information disorder.
Ahead of the election, the Centre for Democracy and Development (CDD) set up Nigeria's first Social Media War Room to tackle information disorder before, during and after the elections. The goal was simple: To ensure Nigerians went to the ballot, armed with factual information needed to make the decisions that serves their future beyond the four-foot cubicle where their final decisions are put to ballot papers.
In the process of delivering on that mandate, we published more than 200 fact checks and explainers. In this time, we learnt so much more about the information ecosystem and how disinformation plays a very vital role in elections. We observed the major misinformation trends that defined the 2023 general elections. 
The disinformation game started a year earlier
While the disinformation battle to win elections started long before the election, CDD Election War Room data shows an active acceleration of disinformation actors in July 2022—about eight months before any ballot is cast. We observed that once the party primary elections were concluded, and candidates known—much of which happened in June 2022—the political actors set up an information machinery to define the next few months before the election. 
In July, there was a proliferation of new "news" websites pretending to churn out exclusive stories, analyses and fact checks, but in fact were covertly or overtly driving certain political narratives. While some of them were created before and after July, we found that a majority of them were set up in the month after the candidates for every party were decided. 
The table below shows some of the prominent new "news website" which played an active role in the election information ecosystem. Some shared outright falsehood, while others stretched the truth. Reportera pretended to be a fact-checking organisation, but obviously drummed up political support for Peter Obi of the Labour Party through the vehicle of "fact-checking". 
Table 1: Some newly established online media monitored by CDD Election War Room
| | | | | |
| --- | --- | --- | --- | --- |
| S/N | News Website | Date Created | Created By | Candidate supported |
| 1. | | January, 2022 | Imonitie Aregbeyen (Kaduna) | Bola Tinubu |
| 2. | | July, 2022 | Reportera NG (Imo) | Peter Obi |
| 3. | | July, 2022 | Adams Yahaya (FCT) | Bola Tinubu |
| 4.  | | July, 2022 | Unknown (FCT) | Atiku Abubakar |
| 5.  | | September, 2022 | Unknown (FCT) | Peter Obi |
| 6.  | | November, 2022 | Unknown (Iceland) | Peter Obi |
| 7.  | | Created earlier but repurposed in August, 2022 | Unknown (US) | Bola Tinubu |
Foreign fingers in local elections?
In the same manner, impostor accounts were created in the last two quarters of 2022 to play active roles in the election information ecosystem. For instance, on Facebook, we found 77 parody accounts claiming to be one of the three top candidates in the presidential elections. A majority of these impostor accounts were pretending to be Peter Obi, the presidential candidate of the Labour Party. These accounts disseminated claims and twisted narratives to suit their agenda and in doing that, they lured unsuspecting voters into believing them. Despite the fact that the original accounts of the top candidates are verified across major social media platforms, the social media platforms refused to remove these impostor accounts. 
For Twitter, Elon Musk, the chief executive of the platform, had openly said any account that had "parody" in name will not be taken down, doubling down on his initial claim that "comedy is now legal on Twitter". Unknown to Musk is the fact that only the impostors were laughing to this comedy during the election in Nigeria. CDD Election War Room noted that many of the impostor accounts shared damaging misinformation, and when such begin to go viral, with fact checkers flagging such accounts, the handlers change their profile to add "parody," thereby avoiding suspension or a take down. 
Facebook, on the other hand, gave more insight into the identity of the drivers of disinformation in the ecosystem than any of the other major platforms did. Its 'Page Transparency' feature shows where the accounts were being handled from and also showed when and how the impostor accounts were created. For instance, Igbo Times Magazine, which was created in November 2022 had 141,000 followers on Facebook. When we checked the page transparency information, we found that the page was formerly named "King Ejiblinks," and is operated out of India and Nigeria. What is more interesting is that the website used in sharing its disinformation is run out of Iceland. This was the case for many of the accounts sharing misinformation online during the elections. It is necesary to state that it is unclear if there were Nigerians living in diaspora behind those accounts or if they were run entirely by foreigners or foreign firms, known to influence Nigerian elections. There is room for more investigation and research here. 
Deep fakes and manipulated media
The biggest vehicle for disinformation during this election cycle was manipulated media. All forms of media files were manipulated in this election; from audio files to videos, to still images, and letters or press releases. As the momentum for the election built up, so did the sophistication. Press releases from the Independent National Electoral Commission (INEC) were doctored to push narratives against certain candidates and reduce trust in the election process in general.
Hours before the election, manipulated audio files were making the rounds claiming to show leaked conversations between one of the top 3 candidates and his allies on how to rig the elections. We checked it and found it to be false. While many readers believed our verdict, some others said the ploy to rig was true. They insisted that the audio file they heard was authentic, without any evidence to back their position. For them, "the ear does not deceive" and "seeing is believing". This notion is what many disinformation actors count on for manipulation of audio-visuals. 
We predict that more of this will be seen in future elections, starting from the off-cycle elections in later in 2023. Beyond fact-checking content, we recommend that media houses and fact-checking organisations begin to teach media literacy to the electorates ahead of elections. 
The politicisation of fact checking
The last and the most worrying trend we noted during the election was what we now call "the politicisation of fact checking". Leveraging the legitimacy and trust fact-checkers have built over the years, politicians and their influencers now use accurate fact-checks to delegitimise their opponents. This is an emerging form of malinformation. In this case, the politicians and their handlers cherry-pick and share fact checks about their opponents published by reputable organisations to further discredit their opponents. For example, Festus Keyamo of the All Progressives Congress (APC) shared fact-checks done by CDD about misinformation shared by Atiku Abubakar and the People Democratic Party (PDP). Keyamo shared this as prove that Atiku and the PDP are bad for the nation, stressing that they cannot be trusted to tell the truth.
At some point, influencers supporting the Labour Party and Peter Obi shared fact checks published by CDD Election War Room about Bola Tinubu and the APC, stating that "all APC does is lie". While we—or any other fact-checking organisation—cannot control how people share our reports, it is important to start thinking about how to deal with this challenge in future elections. Reportera was the only phony "fact-checking" platform that went viral during the 2023 election, the same may not be true for future elections. 
We must seek out ways to curb the politicisation of fact checking into the future. We must remember: Information win elections, so can misinformation. 
Mayowa Tijani is a Fact-Checking Journalist and Media Consultant who led the Centre's Election War Room.