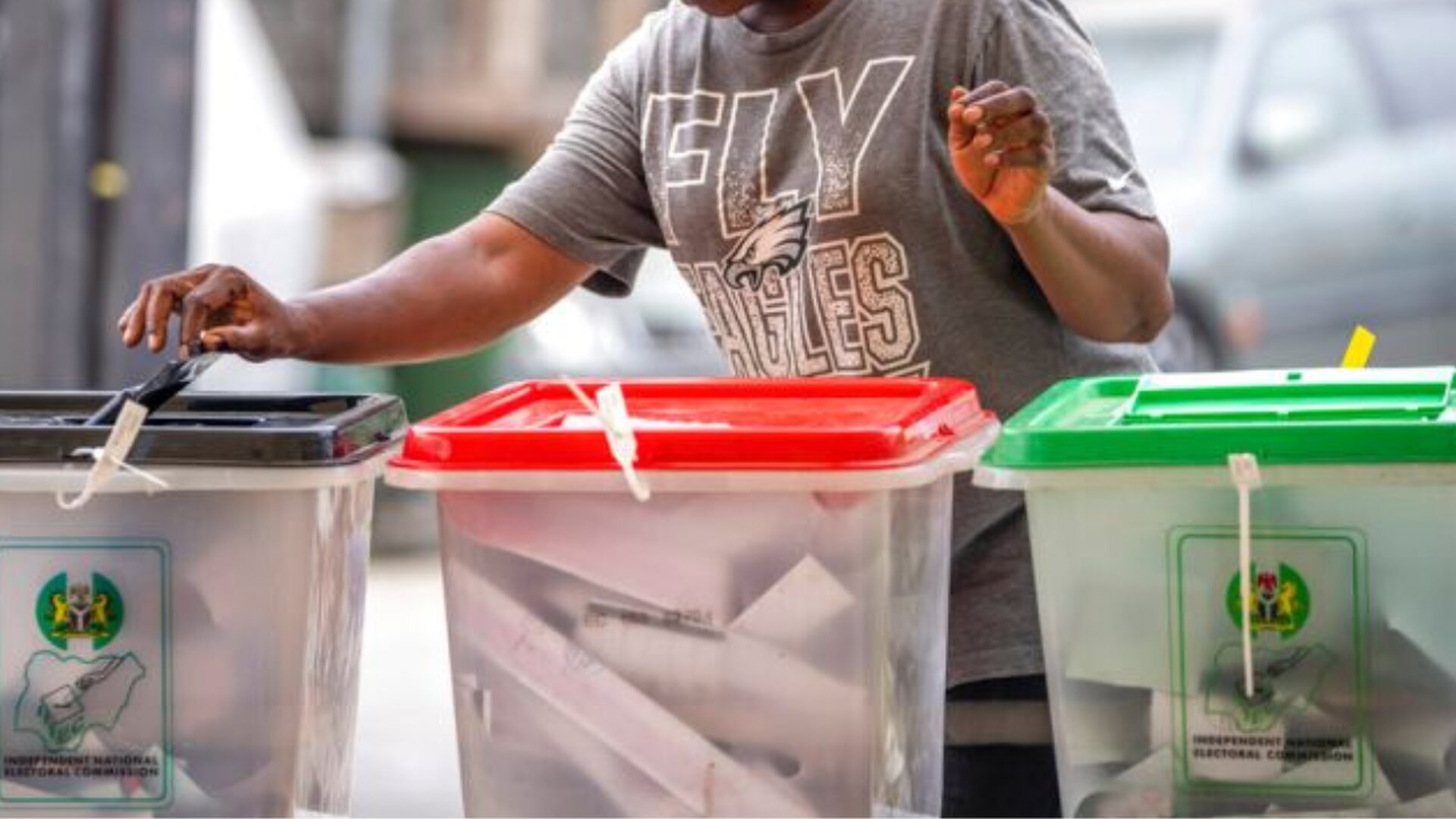 Four Lessons from the Off-cycle Governorship Elections in Bayelsa, Imo and Kogi
The states of Bayelsa, Imo and Kogi went to the polls on 11 November to vote in the first off-cycle elections after the 2023 general elections. The elections provided a stern examination of the Independent National Electoral Commission (INEC)'s purported logistical improvements, having faced significant criticism over several issues that marred the conduct of the general elections in February.
These elections were also conducted under the shadow of repeated incidents of violence in all three states. Bayelsa has been at the epicentre of militancy in the region. Imo has been a hub of secessionist agitation and Kogi's land size and strategic location mean it is susceptible to different ethnoreligious clashes. To this effect, this piece examines key actors in what was largely an exercise in continuity to draw four lessons learnt from the elections.  
Incumbency carries the day
In Bayelsa and Imo, incumbent governors from different parties seeking re-election returned with strong majorities. Hope Uzodinma, of the All Progressives' Congress (APC) won with a historic margin, sweeping all 27 Local Government Areas (LGAs) in the state. Similarly, Duoye Diri of the People's Democratic Party (PDP) secured re-election, winning 60% of the vote, despite facing Timipre Silva, a strong opponent and a one-term former governor of the state. In Kogi, despite incumbent governor Yahaya Bello being term-limited, his self-appointed successor was successful at the polls, leaning on the behemoth APC apparatus in the state.  In the run-up to the elections, there were reported instances of incumbency powers being abused to suppress opposition voices. Hotels were booked out to avoid lodging opposition party members. Access to promotional materials were restricted in certain areas and even public venues under government control were limited to ruling parties. Such instances are worrying and speak to a wider culture of abuse of power and unfair competition.
The power of incumbency was evident in the off-cycle elections, and manifested through the prevalence of vote buying, violence and election irregularities.  In Imo state, there were repeated reports of vote buying, mostly by party agents of the APC and PDP. Of the reported incidents of vote buying in Imo, 76% were from APC party agents facilitating vote trading. The incentives ranged from 1,000 to 3,000 Naira, while there were reports of even higher sums of 22,000 naira recorded in Bayelsa. In an even more worrying development, there were reports of INEC ad-hoc staff receiving money from party agents, with this reported in PU 7, Ehime-Mbano LGA in Imo.  
The proximity to power and state resources afforded to incumbents during elections put them at an advantage, one which has been used to great effect. While the presidential, state, and legislative elections showed the potential of third force parties such as the Labour Party (LP) and the New Nigerian People's Party (NNPP) to disrupt the political landscape, the off-cycle elections show that the traditional powerhouses retain power due to the power of incumbency. 
Vote trading plays a crucial factor
Vote trading and monetary inducement as a tool to influence electoral outcomes were effective during the off-cycle elections. Vote buying occurred more in LGAs with the highest registered voters and collected PVCs. In Kogi state, reported incidents of vote buying occurred in Okene and Lokoja Local Government Areas, which have the second and third highest number of registered voters in the state.  A similar phenomenon was observed in Imo, where 80% of reported incidents of vote buying occurred in the Mbaitoli, Owerri West and Owerri North LGAs, who have the three highest number of registered voters and collected PVCs amongst LGAs in the state.
Monetary inducement in the elections was characterised by the disparity in the amounts of money offered across the states as well as the way it was shared.  As an example, in Imo state, party agents offered cash incentives of NGN1000, NGN2000, and NGN3000 for votes, a stark difference from the NGN20,000 and NGN22,000 which was reportedly given to voters by party agents in Bayelsa. Furthermore, some INEC officials were also allegedly given sums of money by party agents.  In PU7 Ehime LGA Imo state, INEC officials were reportedly given as much as NGN100,000 for Assistant Electoral Officers (AEOs) and 150,000 for Election Officers (EOs).
With each electoral cycle, the importance of vote trading as a means to influence voter behaviour becomes more apparent. Furthermore, the presence of security officers does not seem to abate the growing practice of vote trading. The off-cycle elections have therefore shown that vote buying is an effective tool in winning elections in Nigeria. This is a lesson which INEC and other stakeholders need to come to terms with and provide solutions for going into other election cycles.
Is INEC fit for purpose?
The Independent National Electoral Commission seems to have regressed in its logistical capabilities since the general elections earlier this year. The off-cycle elections were affected by the late arrival of INEC officials to polling units across the states.  Based on reports from trained observers on the field, a substantial percentage of polling units began voting well after the designated 8:30 am commencement time. This delay affected 65% of observed polling units in Bayelsa, 80% in Imo, and 40% in Kogi. Whilst it is important to take into cognisance the difficulty in transporting sensitive voting materials, particularly in riverine states like Bayelsa, it does not negate the responsibility which INEC has to conduct elections promptly.
INEC seemingly lost a lot of trust and goodwill in the eyes of the Nigerian populace in the general elections in February, owing to widespread reports of collusion, BVAS malfunction and election malpractice. Whilst there were noticeable improvements in the functionality of BVAS and the quick response time to malfunctions, a myriad of issues still remains. The primary issue pertains to the lack of transparency and consistency with the introduction of technology in the electoral process.  In the aftermath of the general elections in February, questions were asked about the reliability of BVAS as well the independence of INEC as an election body. These are questions which INEC has failed to answer concretely despite repeated assurances of an improvement in the off-cycle elections.
The off-cycle elections show that INEC is not properly equipped to conduct transparent elections in Nigeria. Based on the elections held this year, it becomes apparent that it is burdened with too much responsibility in the electoral process. With logistical issues tainting the elections and widespread vote buying, other government agencies such as the Independent Corrupt Practices Commission (ICPC), the Nigerian military and other stakeholders need to take a more active role in safeguarding the electoral integrity.
Electoral Violence on a downward trend but still prominent
Electoral violence has been a staple of off-cycle elections in Kogi and Bayelsa. The 2019 elections in these states were particularly violent and there seems to be a continuation of this trend. Based on reports from CDD observers deployed on the ground, there were 17 separate incidents of violence in the elections. In Brass LG, INEC officials were held hostage; in Yenagoa, there were street protests over results from APC strongholds in Nembe. Similarly, electoral violence was reported in Dekina LGA, specifically in Agala Ogane PU, Anyigba town, one person was reportedly shot and killed by military officials while fleeing in an attempt to snatch a ballot box. It is worth noting however that electoral violence was not the main form of electoral interference during the elections. As aforementioned, vote trading has become more prominent and constituted a majority of observed voting malpractice during the elections. It remains to be seen however, if this will constitute a shift away from electoral violence in future elections.
Conclusion
The overarching trend which seems to cut across the electoral process is that not much has changed. Incumbency was a key factor in the re-election of the Governors in Imo and Bayelsa. Similarly, INEC did not pull a substantial improvement in its ability to conduct free and fair elections. The dual effect of political continuity and INEC shortcomings leaves a familiar sense of institutional ineptitude and the lopsided influence money and intimidation have on the electoral processes in Nigeria. Whilst there are marginal improvements with BVAS, a lot of work needs to be done by all stakeholders to improve the conduct of elections.