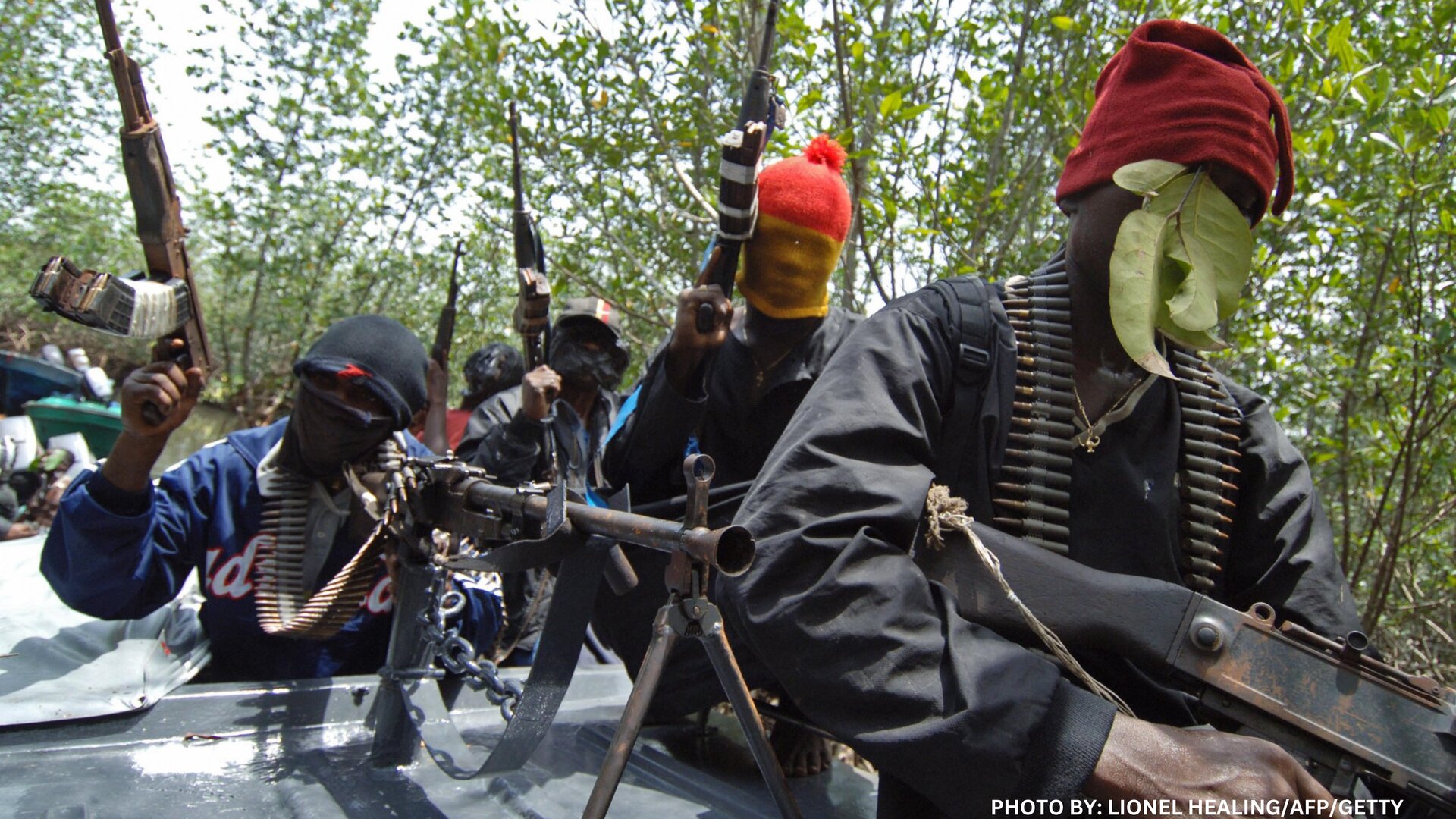 Ex-militants and Bayelsa's Governorship Election: An Impending Oil Surveillance Contract War?
The participation of former militants in politics is a complex and often divisive phenomenon seen in regions scarred by conflict. Historically, ex-militants have been known to participate in politics by forming political parties or running for office. Notable examples include Nelson Mandela's transformation from an armed struggle leader to South Africa's first black President, Gerry Adams' shift from the Irish Republican Army to Sinn Féin leadership in the Northern Ireland peace process, and José Mujica's journey from urban guerrilla to the presidency of Uruguay, among other cases. 
In the Niger Delta, beyond just contesting political positions, ex-militants have transformed into political gatekeepers in communities during elections, determining who wins and losses. They achieve this by either influencing the community's voting choices or inciting violence to disrupt the electoral process. Even with the advancement of technology, this pattern remains largely unchanged. In fact, it has been transformed, introducing a new phenomenon called "accredit and go." This refers to a situation where only the genuine voters are accredited through the Bimodal Voter Accreditation System (BVAS), while political figures and former militants cast votes for others in favour of agreed preferred candidates, as long as it does not exceed the number of accredited voters.
Bayelsa state, situated in the heart of the Niger Delta region of Nigeria, is renowned for its abundant oil and gas resources. It also stands out as the most deltaic and riverine among all the states in the Niger Delta, a trait that once made it the focal point of militancy during its heyday and continues to pose threats to security sector governance. Despite the Presidential Amnesty Program, granted to militants in the Niger Delta in 2009, insecurity in Bayelsa has remained a significant concern, with the state witnessing increased sea piracy, oil bunkering, kidnapping, armed robbery, and cultism. These have detrimentally affected socioeconomic activities. Illicit oil trade is at the heart of insecurity in the state, leading to a vicious competition for oil bunkering sites. Also, there is a high proliferation of small arms and light weapons. Worse still, it is a difficult terrain characterised by rivers, creeks and thick mangrove forests that are difficult to monitor. 
Insecurity and threats of violence have historically been heightened during election periods. This will again be the case during the upcoming off-cycle governorship election, scheduled for November 11, 2023, to be contested by incumbent Governor, Sen. Douye Diri of the People's Democratic Party (PDP), and former Minister of State for Petroleum, Chief Timipre Marlin Sylva of the All Progressives Congress (APC) as leading candidates. One significant factor contributing to insecurity is the intricate relationship between politics, oil surveillance contracts, and ex-militants in the Niger Delta region. Notably, the Force of Egbesu, an emerging group in the region, previously threatened to disrupt the 2023 general elections in Bassan Clan, Bayelsa State. While it is unclear if they were paid as they demanded not to disrupt the process, it underscores the seriousness of the security challenges in the area and ex-militants' influence in the politics of the region.
Ex-militants and oil surveillance contracts
In 2009, active militants in the Niger Delta took on a new title as ex-militants or ex-agitators resulting in a lull in the brazing violence that characterised the region particularly from 2003 to 2009. The Presidential Amnesty Program in the Niger Delta, modelled after the UN's Disarmament, Demobilisation and Reintegration (DDR) program, was launched by the Nigerian government under late President Umaru Musa Yar'Adua to tackle militant attacks that harmed the country's oil production. The program provided an unconditional pardon and cash incentives to rebels who agreed to disarm and gather at screening centres within 60 days. The program which was initially planned for five years is still ongoing to date. 
Despite the Presidential Amnesty Program, in the Niger Delta and Bayelsa in particular, ex-militants play a significant role in regional politics and security. Many former combatants have become involved in politics, either as candidates or supporters of leading candidates and have a keen interest in obtaining surveillance contracts and appointments. A surveillance contract in the Nigerian context refers to a contract awarded to individuals or groups to monitor and protect oil pipelines and installations from theft and vandalism, as well as reporting any suspicious activities to the relevant authorities. The inability of the Nigerian military to combat oil theft, which amounts to approximately 400,000 barrels of oil stolen daily, has led to the award of lucrative pipeline surveillance contracts to private security companies owned by ex-militant leaders. For example, a private security company (Tantita) belonging to an ex-militant named Government Ekpemupolo (Tompolo) was awarded a one-year surveillance contract of 48 billion Naira, approximately $124,999,999.99 at 1 USD to 767.54 NGN conversion rate. This amount equals the combined federal government allocation to Ekiti, Ebonyi, and Nassarawa states for September 2023.
The allocation of these contracts has become highly politicised, shaping ex-militants' role in politics and elections. They are seen as rewards for supporting specific candidates and parties during elections. This has also created inter and intra-gang rivalry that has a potential for violence within the region as ex-militant leaders establish themselves and seek to control the outcome of elections within their strongholds. Already, there are serious contestations by several former militants, including leaders like Mujahideen Asari-Dokubo of the now-defunct Niger Delta Peoples Volunteer Force (NDPVF), HRM Ateke Tom, Ebikabowei Victor Ben (known as Boyloaf), Chief Bibopere Ajube (known as Shoot-at-Sight) as they all compete for same contracts and openly displaying their loyalty to the presidency.
A Potential Powder Keg
Cultists, political thugs, militants, and ex-militants pose serious challenges to election security in Bayelsa's upcoming off-cycle election. The APC's deputy governorship candidate, Joshua Maciver, an ex-militant who is the Bayelsa State Operations Coordinator of Tantita, is accused of using contract workers to support his party. Furthermore, Chief Timipre Sylva, the immediate past Minister of State for Petroleum who is the APC's governorship candidate, is speculated to have played a prominent role in the award of oil surveillance contracts, making many ex-militant leaders loyal to him. 
On the other hand, ex-militants are also loyal to the incumbent Governor, Douye Diri, who doubles as the PDP candidate. The current speaker of the Bayelsa State House of Assembly was also a militant and still controls a large number of ex-militants under the amnesty program. It is rumoured that a foremost ex-militant leader, Endurance Amagbein, will also support the PDP, especially since his brother has been appointed as the caretaker chairman of Southern Ijaw Local Government Area. Likewise, Weris Tike, an ex-militant, serves as the Chairman of Bayelsa State Waterways Security Task Force in the Douye Diri administration. More so, Paul Eris has activated a political wing named Team Ogunboss to galvanise support for the PDP. With these ex-militants keen to demonstrate their political relevance in order to secure surveillance contracts and political appointments, the risk of violence in the state is high. This is especially worrisome because many ex-militants are still at least semi-involved in illegal activities like bunkering, gunrunning and controlling active fighters that are outside the amnesty program. In short, the leverage these ex-militants possess comes from the threat they pose if they fully return to militant activities. But they are also not fully out of the game because they must maintain one foot in the militant world to sustain their influence as ex-militant leaders in the region.
Election Response
The security concerns surrounding Bayelsa state's 2023 off-cycle election are deeply intertwined with the complex web of politics, oil surveillance contracts, and the enduring presence of ex-militants in the Niger Delta region. The state's vulnerability to insecurity, including rising criminal activities and sea piracy, has cast a shadow over the upcoming election, with the potential for conflict and violence looming large. In analysing past elections in Bayelsa, Southern Ijaw, Nembe, Brass, Ogbia, and Ekeremor Local Government Areas are likely flashpoints for electoral violence.
In response, the Nigerian government and relevant security agencies must bolster security efforts in the run-up to the vote. Adequate deployment of security personnel and resources can help deter criminal activities and ensure a safe and peaceful electoral process. However, political parties, candidates, and their supporters, including ex-militants, must also commit to peaceful and fair elections if disruptive levels of violence are to be avoided.
Dengiyefa Angalapu is a Research Analyst at the Centre for Democracy and Development