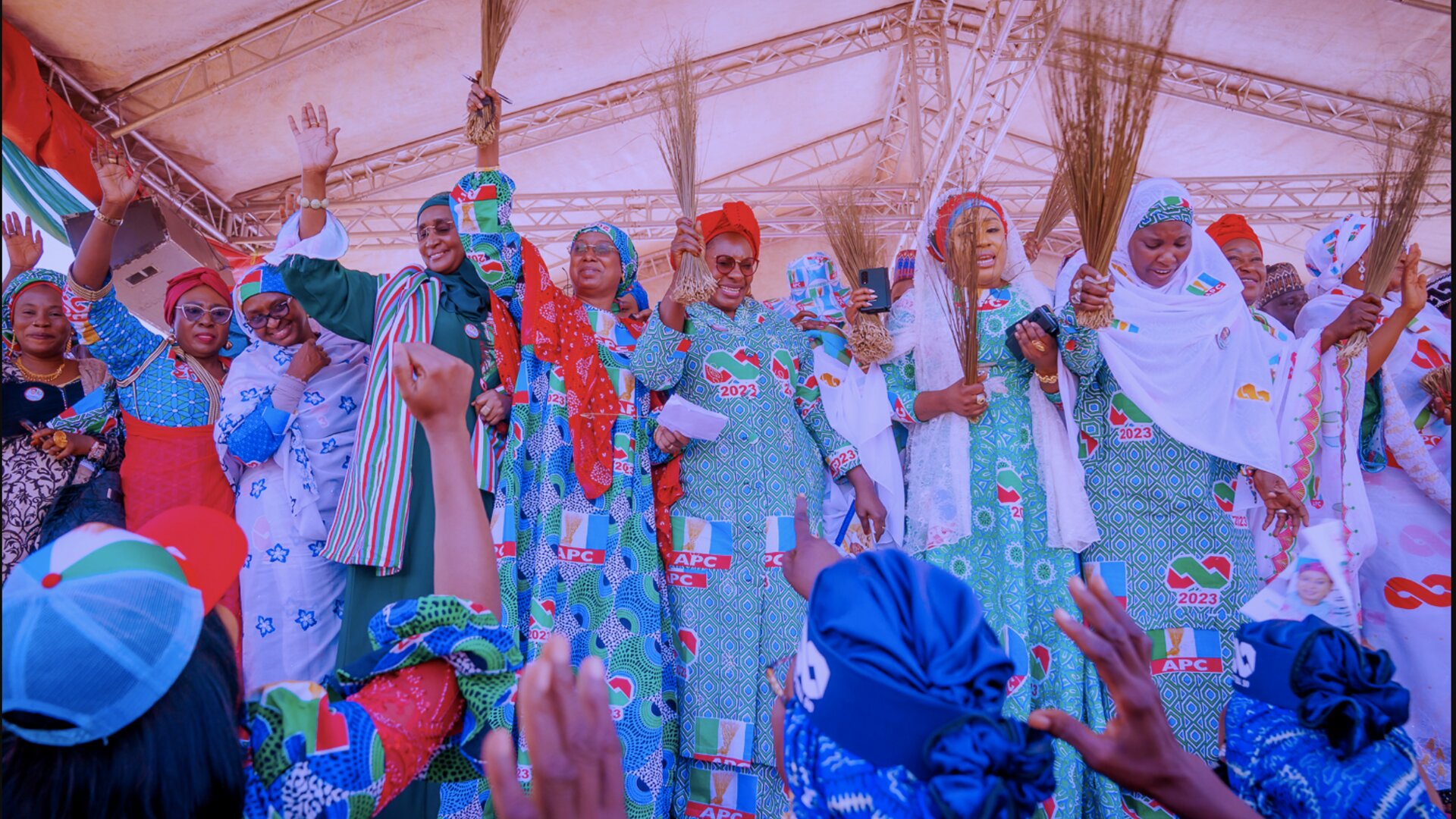 Could Adamawa elect Nigeria's first female governor?
Nigeria's nascent democracy has its peculiarities. No president has been born after the country's independence in 1960; no candidate from the northeast or southeast has been elected head of government; and no woman has ever been elected president, vice-president or state governor. The results of the 25 February polls have reinforced this lack of gender inclusivity, but state elections on 18 March provide an opportunity for redress.
The 'status quo'
Only three women out of the 101 confirmed senators-elect are female, a reduction from the current crop of eight women, and two-thirds less than the high point of nine senators that was achieved in 2008. Similarly, there are only 13 confirmed women among the 327 confirmed house of representative races. This is the same number as in the current house, albeit with 33 races left to call, but falls short of the previous high of 25 women representatives in 2007. There is also a geographical division when it comes to women's political participation in Nigeria.
Of the top ten states with women running for seats in the national assembly, only two were in the north: Gombe and Kwara. This can partially explain why the three female senators-elect are from Lagos, Rivers and the Federal Capital Territory. The pattern also extends to the house of representative seats, with just five of the 13 declared women representatives from the north - two each from Benue and Yobe and one from Borno. If this trend of better odds for women in southern Nigeria follows, the fact that 22 of the undeclared 33 house seats are from the north should minimise expectations that their numbers will grow as inconclusive outcomes are resolved.
But opportunities for stronger women representation in southern politics appears to have limits. Although 15 of the 17 women deputy governors elected since 1999 are from the south, none have move from deputy to governor. In Lagos, Kofoworola Bucknor-Akerele served under then governor, now president-elect, Bola Tinubu from 1999 to 2003 whilst Virginia Etiaba was Peter Obi's deputy in Anambra state, briefing serving as acting governor during his impeachment in 2006/7. Furthermore two of the three declared women set to enter the forthcoming senate have previously served as deputy governors in their states – Idiat Adebule in Lagos (2015–2019) and Ipalibo Banigo in Rivers (2015–2023). However, it has been, and is, female candidates competing in northern states that have come closest to taking the top job.
Tales from Taraba and Adamawa
Taraba's 2015 governorship election was notable for the performance of Aisha Alhassan, the All Progressives Congress (APC) candidate. After initial results were declared inconclusive, a supplementary election was held in affected areas. Although the People's Democratic Party (PDP) candidate, Darius Ishaku, won those elections, an election tribunal subsequently nullified his election and named Alhassan as the winner and the duly elected governor. However, when the case eventually went before the Supreme Court Ishaku was confirmed the winner. This outcome did not diminish Alhassan's well-established standing in the state. In 2011, having defeated the incumbent in the primaries and won a senatorial seat she used her time in office to push community empowerment programmes earning her the sobriquet Mama Taraba and widespread support in the state. However she did not seek to contest for the state's apex office again, defecting back to the PDP and supporting Ishaku in 2019 before she passed away in 2021.
There are similarities between Alhassan and Aishatu Dahiru Ahmed, a serving senator from Adamawa who is contesting for the position of governor on the APC ticket in 2023. Fondly known as 'Binani', Ahmed was first elected as a federal representative, serving two terms from 2011 to 2019, before she was elected as a senator in 2019. Her performance as a representative was well-regarded to the extent that a coalition of civil society groups and professional associations endorsed her senatorial bid. To secure the governorship ticket for 2023, Ahmed defeated former governor Jibrilla Bindow and former presidential aspirant Nuhu Ribadu. Although an initial legal challenge by primary opponents saw her disqualified from the race, she has since won further legal battles and has been granted judicial clearing to contest the election. However, 25 February presidential and national assembly elections might be cause for concern for the APC:  the PDP won 2 of the 3 senate seats and 7 of the 8 representative seats, as well as the presidential election in the state. While Binani can rightly point to Atiku's influence in that race, it remains to be seen if this will be a factor in what is predicted to be a tight contest.
Explaining the shortage
Despite there being more national representatives and experienced women politicians in southern states able to leverage these experience and connections to support a concerted run, it has been northern states that have been closest, and remain most likely, to elect a female governor. What explains this?
For starters, both Alhassan and Binani benefited from running in states with no de facto political godfather to make or mar candidacies. Taraba has not been prioritised in national political dynamics and Adamawa has dispensed with first term governors in the past to reduce subsequent extended direct influence - so much so that the incumbent Taraba governor lost his bid for the senate in 2023 and a former Adamawa governor lost in the primaries to Binani. In most southwest states, the influence of former governors and tight party structures have rendered candidate selections largely predetermined. Whilst in the south-south and southeast, despite more egalitarian contests, the politics in the zone has seen more tokenism and co-optation from its leaders result in a more subdued gender approach. This has led to women more often recognised through political appointments.
A second reason is linked to the fact that both candidates have secured tickets in opposition against their states' ruling party. The fairly robust elective results in the northeast - incumbent governors seeking re-election in Adamawa and Bauchi both lost their bids in 2019 - supports insurgent candidacies, which are often from more marginalised groups. It is a reason why analysis accounting for the drop in women candidates for the 2023 elections factors in the reduction of political parties, as women are more likely to run on minor party platforms. Finally, and increasingly, the electorate has welcomed seasoned legislators who have proven themselves to their citizens and which can provide a good launch pad for more prominent elective positions.
Future prospects
Binani may be the only woman in the governorship race running on the platform of one of the two major parties, but there are other women seeking state executive positions on other platforms. While the political landscape tells us that these candidacies might be more ambitious than realistic, it is still testament to the faith in participation that there are increased efforts and platforms to help recruit and support women seeking elective office.
Nigeria needs more diverse political representation. However due to the volatility of the political landscape, it is also true that many well qualified women are unlikely to be enticed the prospect of jettisoning promising careers to enter the world of highly contested party politics.
Afolabi Adekaiyaoja is a Research Analyst at the Centre for Democracy and Development.